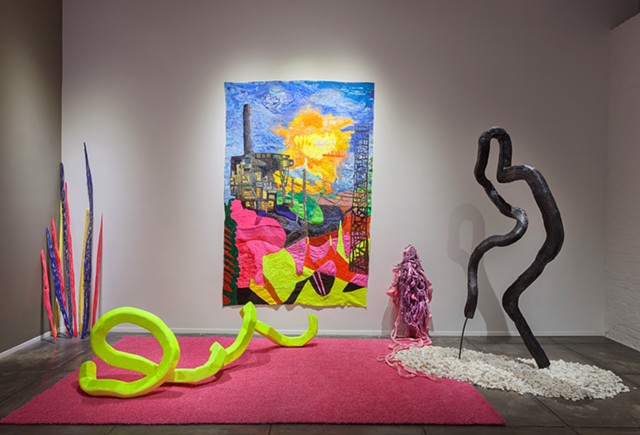 Gina Phillips is a mixed media, narrative artist who grew up in Kentucky and has lived in New Orleans since 1995. The imagery, stories and characters of both regions influence her work. She started her career as a painter, but over the years, has increasingly incorporated fabric and thread into her work. She begins a piece with a simple under-painting in acrylic paint on canvas or muslin…then finishes the piece by appliquéing fabric and thread on top. Phillips uses a communal gathering process to source her fabrics, as neighbors, friends, family often donate discarded materials to her artistic process. Her sewn works hover between two and three dimensionality and often the backs of her pieces are as interesting as the front sides. She is perhaps most noted for her co-opted use of a longarm sewing machine. The longarm becomes a thread-drawing machine used in a non-traditional manner. Oftentimes, her fabric forms are cut out of the picture plane and installed on the wall using pins creating an ever-changing narrative, depending on their juxtaposition. Phillips' work is characterized by a raw, narrative quality. The most common narrative characteristic that runs through her work is tragicomedy. The people and/or animals that tell the story often embody a magical realism.
In 2004, Phillips bought a house in the Lower Ninth Ward neighborhood in New Orleans. One year later, her house was seriously damaged by Hurricane Katrina, forcing a year long absence from New Orleans and a subsequent 2 year rebuilding process. Following this catastrophic event, her work underwent an epochal shift as she more closely explored time, place and geography.
Gina Phillips has a BFA from the University of Kentucky and an MFA from Tulane University. Her work has been exhibited in galleries and museums across the country including Crystal Bridges Museum of American Art, Asheville Art Museum, Pepperdine University, Ballroom Marfa, The Ogden Museum of Southern Art, The New Orleans Museum of Art, and the 21c Museum in Louisville, KY. In addition, her work has been presented at numerous art fairs including PULSE LA, PULSE Miami, Texas Contemporary and VOLTA Basel. Phillips' work has been featured in Art in America, The Times-Picayune and ARTNews, among others. She was selected as one of twenty-seven international artists featured in the Prospect.2 Biennial of Contemporary Art curated by Dan Cameron and her collection of fabric portraits Friends and Neighbors was exhibited at VOLTA8 as part of Art Basel in Basel, Switzerland. In 2014, Phillips' work was featured in a mid-career retrospective at the Ogden Museum of Southern Art entitled, I Was Trying Hard to Think About Sweet Things. Additionally, in 2014, her work was chosen for State of the Art at Crystal Bridges Museum of American Art, a survey of current work by American artists from all regions of the country.